Multi-night analysis
Capture the night-to-night variability of your patients' sleep apnea
Unrivaled form factor
For the first time your patients' night will be left undisturbed
Unfiltered PPG, SpO2, sound and accelerometry
Signals carefully curated to capture more diagnostic information than meets the eye
Streaming mode for sound analysis
When connected to a smartphone, sound is recorded and automatically uploaded to the Brease cloud platform
Medical grade
Airpatch is undergoing certification as part of our medically certified diagnostic system
Expected Fall 2017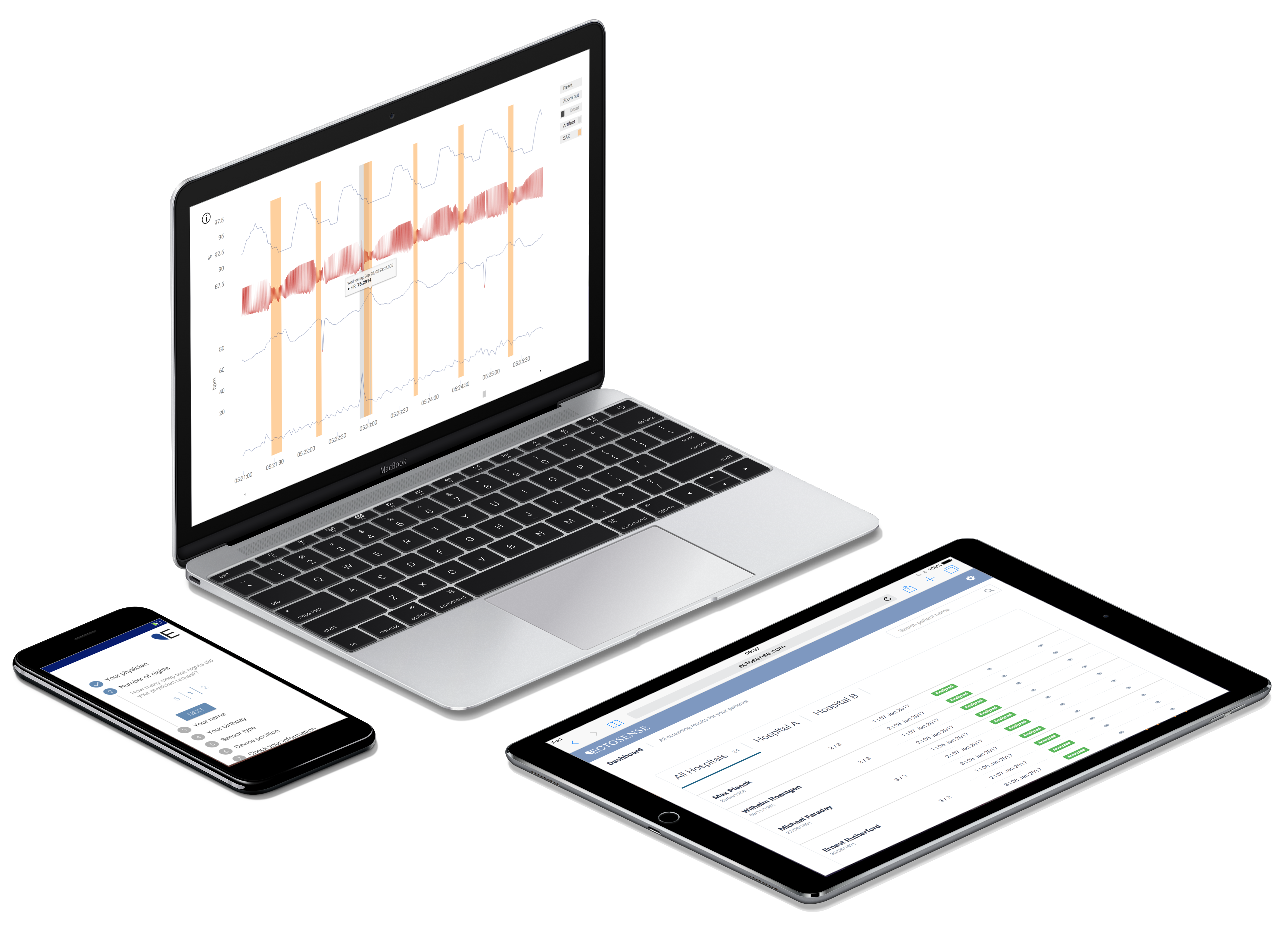 ‍
Automated analysis by NightOwl
The proprietary NightOwl, the machine learning algorithm behind Brease, processes sleep exams in minutes
‍
Central sleep apnea
NightOwl is the only clinical grade algorithm that detects the presence of central apneic events from such a simple sensor device
‍
Total sleep time
NightOwl is one of the few home sleep test algorithms that provides an accurate estimate of the total sleep time
‍
Actionable diagnostic reports
The Brease cloud dashboard gives acess to key diagnostic parameters, such as AHI category, total sleep time, and arrhythmia in an interactive report
‍
Medical grade
NightOwl is certified as a CE class IIa medical device for the direct diagnosis of sleep apnea and it has been validated in clinical studies, benchmarked to the polysomnography
‍
Also available standalone
Brease is compatible with the Nonin WristOx2 pulse oximeter, when coupled with an accelerometer
Beta version available now
AIRPATCH & BREASE WORKFLOW
Device delivery
Fast and practical
Airpatch is so small it can be mailed to the patient's home in a regular envelope. After performing the test, it can be mailed back or simply kept by the patient for follow-up.
Setting it up
Effortless
The patient downloads the Brease app, which demonstrates how to apply the device on the finger or the forehead using the included adhesive patch.
Sleeping
As if it isn't there
Airpatch is so small and comfortable, the patient will hardly notice a sleep test is being performed.
Upload and diagnosis
Fully automated
Airpatch streams the data to the smartphone, which uploads it to the Brease cloud software. NightOwl automatically analyses the data and produces a comprehensive diagnostic report.
Report delivery
Within minutes
The diagnostic reports
are made available in the Brease physician dashboard the same morning.